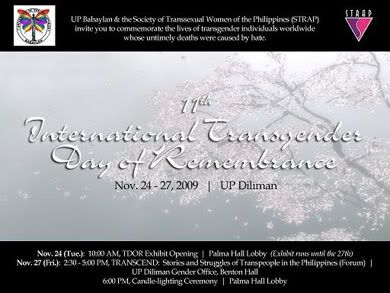 This year, STRAP is partnering with the first-ever TLBG student group in the University of the Philippines (UP) system, UP Babaylan to commemorate the International Transgender Day of Remembrance (TDOR) The TDOR is meant to honor people who were killed due to anti-transgender hatred or prejudice. It began a decade ago after the death of Rita Hester who was brutally murdered in November 1998. Hester's death resulted in the creation of the Remembering Our Dead website and a candlelight vigil in 1999. Henceforth, transgender people killed due to hatred are honored in annual TDOR activities worldwide.

We are holding TDOR week in UP and our activities are as follows:

Activity and Venue

Date and Time

TDOR Exhibit

*Opening ceremony

(AS Lobby or Palma Hall Lobby, UP Diliman)

November 24-27, 2009 (8:00AM to 5:00PM)

*November 24, Tuesday, 10:00AM

TRANSCEND: Stories and Struggles of Transpeople in the Philippines (Forum)

(UP Diliman Gender Office, 2/F Benton Hall)

November 27, Friday, 2:30PM to 5:00 PM

Candlelighting Ceremony and Reading of Stories of the Departed

(AS Lobby or Palma Hall Lobby, UP Diliman)

November 27, Friday, 6:00 PM

We hope that you can join us in all these activities. We will really appreciate it. To participate or for inquiries, contact STRAP Secretary Mae Emmanuel Hernandez at mobile (0905.352.0943) and email (mushy.mae@gmail.com). Thank you. See you there!