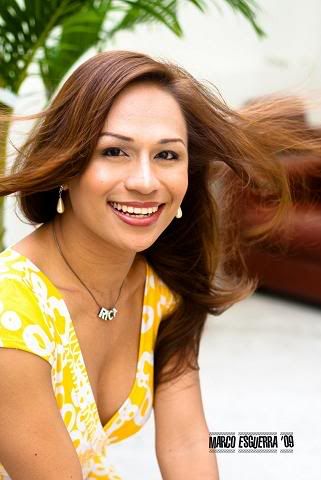 Dear Friends, Allies & Supporters,
We, the Society of Transsexual Women of the Philippines (STRAP), a transgender rights advocacy organization and support group for girls and women of transsexual experience, are very proud to announce that one of our very own, Ms Rica Paras, is now a Pinoy Big Brother (PBB) housemate. Housemate Rica, the Math Goddess of Bacolod (although she is really from Iloilo, entered the PBB house tonight, 10 October 2009, Saturday, and we believe that given the dearth of positive and empowering media images of transgender Filipinas or transpinays, her addition to the cast of PBB housemates marks a significant milestone both in the history of Philippine TV but as well as in the local transgender liberation movement. Rica is the first out and proud transpinay who will ever enter the PBB house and be watched by millions on national TV.
This is perhaps just rightly so as Rica's story, indeed, is one that needs to be told. Growing up in a lower middle-class household in Sta. Barbara, Iloilo, Rica at a young age displayed an affinity for science and mathematics. This led her to attend the prestigious Western Visayas campus of the Philippine Science High School where she was a consistent A-student. Later, Rica won a scholarship to study Mathematics at Ateneo De Manila University (ADMU) where she graduated with honors. The last six years, Rica has been working as a globally certified IT consultant for a multi-national company training people in sales, product distribution and finance.
That Rica's story may serve as an inspiration to people who are dealing with difficult gender and identity issues at a young age is not lost on us. Many of us, her sisters in STRAP, know all too well how it is like to grow up with no one to look up to, deprived of role models on TV who look like us and are going through the same things in life. We would therefore like to invite you to watch Rica on PBB so that she can tell you her story in her own words. There is so much more to know so watch and see the amazing person that we have all come to love and cherish. More importantly we hope that you will join us in supporting our dear sister and ensuring that she emerges the Big Winner of this season's PBB.
Add Rica Paras on Facebook, Multiply and Friendster. Do not forget to text in your vote for her also so that she can stay in the PBB house until the Final Four. Help us bring Rica's story of succeeding against all odds and breaking stereotypes and barriers to the millions of Filipino households that watch PBB every day and every night. Remember that a vote for Rica is a vote for our desire for change—change in the kind of people we see on TV and change in the way people will see people like us. A vote for Rica is a vote for the dreamer in us—that anyone, regardless of gender, religion, social status, ethnic background, sexual orientation, gender identity, etc. can dream big and work hard for a better life. A vote for Rica is a vote for self-determination—that ultimately we are the masters of our fate and the captains of our souls. Only we can decide for ourselves who we want to be and who we really are!
In love and peace,
Society of Transsexual Women of the Philippines (STRAP)
www.tsphilippines.com
Dear Friends, Allies & Supporters,