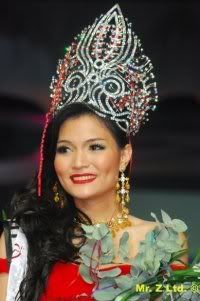 24 October - Rain Villagonzalo won the first edition of Queen of Cebu, a new and prestigious pageant for Cebuana transpinays. Rain, who is Cebu-based, was Miss Philippines and she bested 20 other beautiful Cebuanas representing different nations of the world for the title of Queen of Cebu Universe.
As reported in
The Mindanao Examiner
, "
It was no neck-and-neck battle of beauty and brains before the panel of judges, who unanimously singled her out to walk away with the crown, after she articulately discussed STRAP, of which she's been an active member for two summers now.
The ever eloquent pageant champ recaps, "It stands for Society of Trans-sexual Women of the Philippines. It is the only transgender rights support and advocacy group in the Philippines. It aims to provide assistance to transgender people who are victims of discrimination and prejudice, be it in the workplace or in society in general. Most of the time transgender people are not taken seriously in the workplace. The organization provides legal support as well... in order to assert every transgender's rights to equal employment opportunity. After all, Transgender rights are also Human Rights. On a personal note, I'm fortunate enough to be part of a company that respects equal employment opportunity and somehow takes into consideration Affirmative Action when hiring employees
."